I finally have a little time to post Julie's answers to the interview questions that a couple of you asked, or sent my way. These are her answers and I hope you enjoy them as much as I did! :)
But before I begin, I want to make mention that Julie was actually in an Issue of Barbie Bazaar in 2002. I had intended to mention it in my first post about her doll room, but was so overwhelmed with pictures I got sidetracked. Julie was kind enough to send me that issue, and it is really wonderful!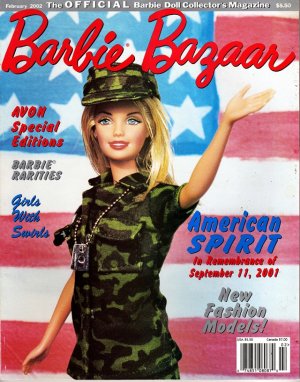 ***Note: Some of the questions have been reworded to an interview format. But her answers are still in their originalcontext.***
Thanks again for all the great questions!! :)
Do you make the miniature quilts that appear in many of the dioramas?
Answer:
No, I did not make the quilts – I hope to someday soon though….Most of the quilts are from the Boyd's Bears line of collectibles sold at gift/card shops. (can be found on ebay now) Back in the late 90's I think, a dressed bear would come with a little quilt, or occasionally they would sell the quilts separately. Two of my other "quilts" are pot holders, and three of the quilts were hand made by my aunt Sarah.
Do you crochet the throw rugs?
Answer:
No, I do believe it is out of my realm of possibility to crochet, but I come from a long line of quilters and crochet-ers, so I appreciate the beauty and detail of it. The doilies or "rugs" have been mostly found at flea markets, and a couple of the "throws" were pot holders or hot pads. Also, there are several old hankies with pretty needlework that were found at flea markets.
Where did you get the miniature Native American rugs and pottery?
Answer:
The two larger Native American "rugs" were found at an AmVets (AmericanVeterans) thrift store in with the place mats – I don't know if they are meant to be placemats or like small table mats – but they really are beautiful and detailed. They also had long fringe on the ends that I cut off. The smaller "rug" in the master bedroom, I found at a miniatures show and I was told that it came from an old cigar box – apparently years ago they would be included in with the cigars. It's not woven though, it's like a thin felt. The other few "rugs" were found on a trip out west at various souvenir shops, and the smallest ones I think were meant to be coasters.
Where did you find the 1:6 scale upright piano? Mattel and Gloria have made lots of grand pianos over the years but I have never seen a 1:6 scale upright or spinet.
Answer:
The upright piano is one of my favorite items! I found it years ago at our local flea market. It is actually a working telephone! It says "Grand Ole Opry" on the front of it under the line of keys. It must have been an Opry souvenir gift or something like that. It is wood, metal and plastic and the receiver is on the top part of the upright – if you look closely you can see the line where it comes off. It is also a music box, so when you lift the key cover, it plays a song and the center drum goes around. The little stool in front of it was found at Goodwill.
What are the dimensions of the shelving units? Were they custom built or are they available commercially?
Answer:
The shelving units were made by my father in his workshop. They are made with ¾ inch plywood. The individual house rooms are about 15" high and 14" deep, and the overall size of each section is about 48" tall and 39" wide. The store shelves are overall 6ft tall and 36" wide, with the corner shelf being a little wider. The individual store rooms are 15 ¾ " deep and 16 ¾ " high.
Please explain the "track lighting" system. What type of lights are they? How did you install them?
Answer:
The lighting "system" I wouldn't call a system…They are what was available from the home improvement store, Menards (and I believe they are available online). I found them in the lighting section of the store, like where all of the kitchen under-cabinet lights are. They are called "Westek" Strip Lights. They come in, I think, two or three sizes. The package says they are "accent lighting for bookcases, china cabinets and entertainment centers." They are basically an enclosed line of little bulbs that are installed with screws on either side. My dad also drilled holes in the back corners of each room so that the cord could go out the back. They were the most shallow lights I could reasonably find.
What kind of paint do you use to customize and detail plastic play sets? Do you have any special tips or techniques to share?
Answer:
The paint I originally used to "customize" the plastic play sets several years ago was just cheap, basic spray paint. It wasn't that great and it would easily peel off. Now, there is spray paint that is specially formulated to adhere to plastics. Some paint even has texture and mixed colors to get an even more realistic look.
8. Do you have any special tips or techniques to share?
Answer: "Techniques" to share? Not really, nothing specific. Aside from spray painting, I don't really do a lot of the creative crafting. "Special tips" to share? The main thing that I would share with others looking for 1/6 scale items, would be to just visit local flea markets and thrift stores occasionally, with zero expectations – and then be ready to be pleasantly surprised every once in a while….That's the fun of it all (like Forrest Gump's mom says, "you never know what you're gonna get!").
9. What criteria is used to buy the items in your scenes?
Answer:
The "criteria" to decide what goes into the dioramas? It's primarily all about size – and much of the time it could be just taking a chance that something will work (and many times things I thought would work, end up not). Otherwise, I choose things that I like.
The "house" items tend to be obvious pieces that would go into a house, with many of the little items being things that remind me of family members, friends or favorite places.
The store choices came about from what I love. I've always been a "garage sale gal" and a second hand shopper. So, I always wanted some form of flea market/antique store. I've always loved "Little House on the Prairie" and "The Walton's" and the "olden days" stories – so, many of the items in my antique store remind me of those stories. The resale clothing consignment shops are where I love to actually shop, and I love fashion, so, I definitely wanted a store like that. The Cowboys and Indians store comes from my love of the southwest and "Dances with Wolves." And the grocery store was my favorite thing to play with my dolls when I was young – so that's all about memories.
10. Where do you find the furniture and other items, when you see something that you wish to buy?
Answer:
Where do I find the items? Primarily, Barbie/fashion doll items are from the "regular" stores or second hand at garage sales. Most of the more unusual items are found at the Goodwill thrift stores. I also find things at Salvation Army and AmVet stores, as well as, local flea markets. There is an abundance of amazing things, old and new, on ebay, at all price points, unfortunately, I'm not very adept at online shopping…oh well. :)
And here is a personal message from Julie:
"
Thank you for the questions and interest in my doll room. What a blessing it truly is to be able to share one's hobby with other "kindred spirits." I'm looking forward to providing a detailed look and explanation for each individual room diorama (with Cat's generous help, of course!). Thanks again!"
Thanks again for following!!