Okay, before I even get started here I should state that I will have to break this down into multiple blogs. There are
TONS
of quickly taken photographs (aka the opposite of awesome). I tried my best to capture everything, but once you see what I'm referring to, I think you'll understand. So, here goes…
Our doll club party took place at Julie's house. She has the mother of all doll rooms. Her diorama set up made me rethink how I do EVERYTHING in my dolly-verse. She had amazing tips/tricks and great stories to go with the various rooms and pieces she has used. It was an informative and amazing opportunity to talk with her about her exceptionally creative and breathtaking doll room displays. She has been working on this doll room for nearly 17 years, so none of this happened over night. And I want to thank her for giving me permission to photograph, and share all of her hard work with each of you via A Doll Affinity.
When you first enter the room this is what you see…
In the above picture, you get a good view of the diorama shelving. What you can't see of the room is the other shelf on the far left. The stores and dioramas in this corner shelf join and flow together. You will see them later in this post. I should also note that her shelving was custom made by her dad, and he skillfully installed track lighting in each area. My camera flash also ruins your ability to see that. Again, I am apologizing on behalf of my camera and it's oftentimes clumsy operator.
I love the cloud paper. The effect in this room literally takes your breath away.
Next, you see her very stylishly dressed ladies posing in their respective cabinet.
What you may not realize from the photographs below is that in most of the shelves the dolls go back a few rows. She has some multiples, but a lot of her multiples are my favorite dolls of all time. :)
So pretty!!
Please excuse my flash on the doll cabinet's glass.
My camera decided it didn't want to cooperate. Surprise. Or perhaps the fault is all mine for being too excited to think the shot through.
We will begin the room by room tour with the shelf below.....
The diorama's are very detailed and I tried to break most of them down into 2-3 shots to capture as much detail as possible. I encourage each of you to click on the pictures so that you may see better detail. You won't regret it. :)
Sorry that Papa Cowboy and his son went kind of blurry. Auto focus...ugh.
On the plus side, you can see a lot of detail on the vest and saddle rack. ;)
How cool is the black stand holding the beautiful pottery?! :)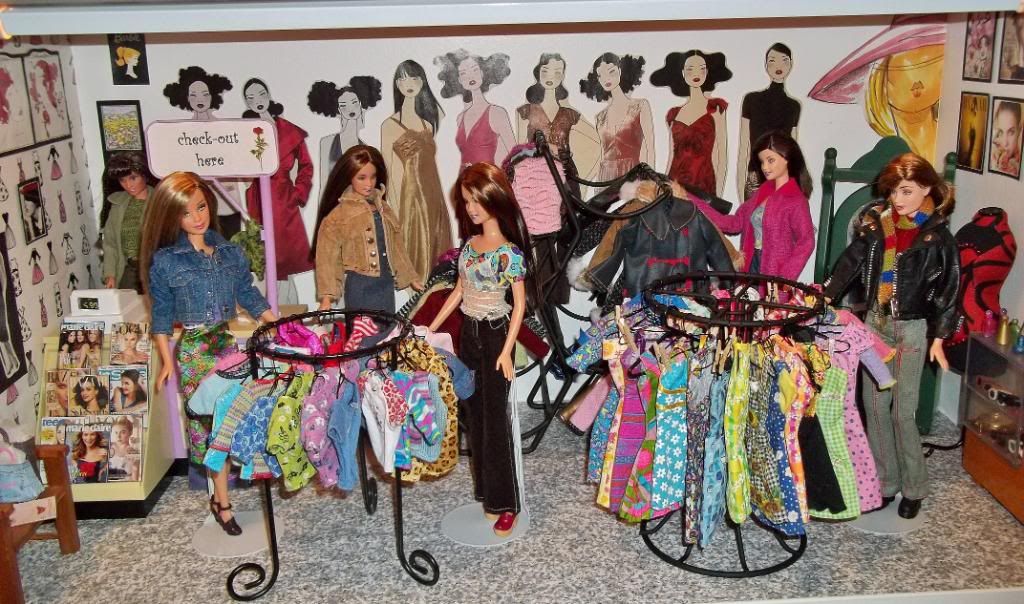 Candle holders, a small wine rack and stylish magazine cutouts helped to create this amazing little shop!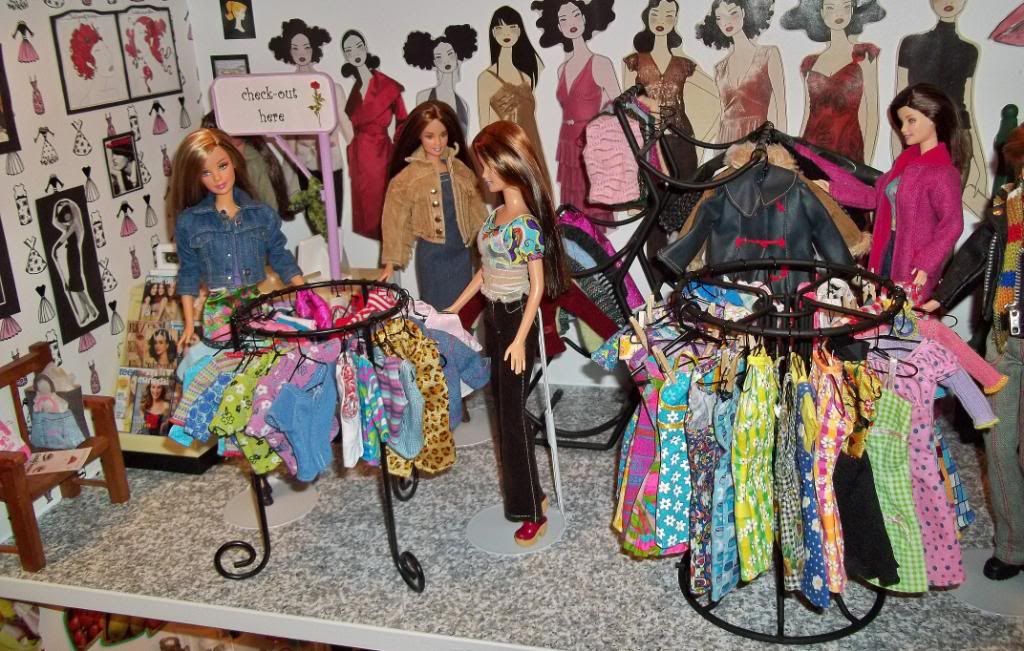 This makes me want to shop til' I drop! :)
Look at the little cutie in the ducky rain slicker! And the Coca Cola machine!!
I didn't get a chance to ask her where all of the realistic produce came from.
I will definitely make a point to ask in the future.
Yes, it does just keep getting cooler! ;)
I am going to go backwards this time, because we just covered the first part of the "Shop & Go Market", and the "New to you! Consignments." Both of the bottom Dioramas in this shelf are the 2nd parts of those, or perhaps these are the first parts. Either way, they are the same shops continued. :)
Can anyone say SHOES?! I love a good pair of cute shoes!
It doesn't show, does it?
Well, there it is, Part One of the tour. I will try to have Part Two up and running tomorrow. :)
I have no idea how many parts there will be. All I can tell you is that they will be amazing. I took these pictures thinking of each of you, as we all love outstanding dioramas! :)
Oh, and as for the rest of the doll meeting. There was delicious food galore! Sadly, I didn't think to take pictures of it. I just ate it. Imagine that? ;)
The charity raffle (all money is donated to a charity of the club's choice) was a blast. Many members bring in nice doll stuff and they place brown paper bags in front of each item. You purchase 30 tickets for $20. Or, 12 for $10 and yes I made that complicated for them. If any of you gals read this...sorry about that. Thank you for helping me out Laura! :)
I spent $30 in tickets and won the following (except for the Alexis Liv doll, she was won in the Doll Story I mentioned in my last post):
I brought it home and tried to re-create it with the space
I had available in order to photograph it better. However, the first picture of it is the original.
You just can't see it very well due to the odd lighting.
Here are some pictures...
And it came with this adorable NRFB Baby Krissy set...
At the time of writing this everything has been worked into my own doll room, or stored away.
I have taken pictures of it, but I will leave that for a later post.
I will say that one of the stores in my mall got a serious upgrade! :)
Hope all of you had a great weekend and I look forward to hearing from all of you!!
-Cat of A Doll Affinity